Atlanta Concert Band Offers a Musical Experience Worth Sharing
---
The ACB is a versatile music ensemble that revels in the opportunity to bring to our audiences everything from classical and traditional music to pop, jazz, movie scores and even music selected from popular video games! In our 2011 concert season, the ACB included several unique selections in our performances, including a musical background to a video presentation of "Godzilla takes Vegas" and a live musical accompaniment to a professional reading of the famous poem "Casey at the Bat".
Please see our upcoming schedule of concerts.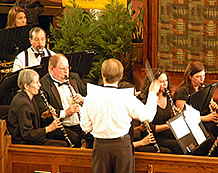 We also are eager to bring our music to all of the people of the Atlanta area, so along with our regular concert venues we have made a great effort to bring the band to different areas around Atlanta, performing at suitable high school auditoriums, churches and synagogues around the metro area. The performances are presented to the general public and/or special audiences, free of charge much of the time. We are striving to provide accessibility to the arts to populations for whom concert attendance may not be a common opportunity.
In addition, this year a new initiative has been started by ACB to expand our outreach efforts for music education to Georgia's youth, with a goal to connect with schools and educational programs throughout the area and provide concerts, mentoring and unique connections with the live performance arts. Note: The Atlanta Concert Band is a traditional concert band or community band, with a dual mission of bringing arts to our community and providing a forum for arts education to the next generation. Emphasis is on:
Performance of a wide variety of classical, modern and traditional band music for audiences throughout the greater Atlanta area
Introduction of children to great music in a fun atmosphere
Providing individual musicians in the community with an outlet to maintain and improve their musical skills and talent;
Assisting and encouraging young students of music through our mentoring programs and selected participation in the band.